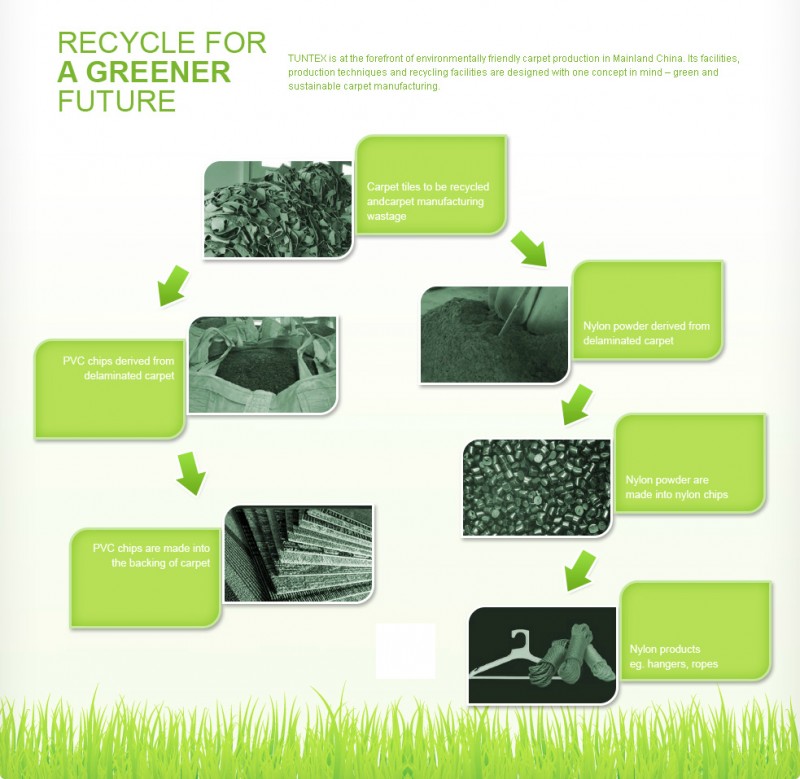 15 Mar

Tuntex Receives Recycled Content Certification

Tuntex is proud to announce that our "econcept" and "Renaissance of Art (ROA)" series were granted Recycled Content certification by the recognized American authority in independent third-party verification of environmental claims, GreenCircle Certified, LLC. The certification, received in July, 2015, was the first for carpet products in any Asian country.

The certification from GreenCircle Certified, LLC is internationally recognized. Their certification process is rigorous, requiring all claims of manufacturers' products and operations to be verified and true, requiring thorough data records and extensive time to complete the process. Any products certified by GreenCircle provide assurance for manufacturers, suppliers and consumers that these claims are accurate and in accordance with internationally recognized standards. In the current marketplace, third-party certification has become a highly valued benchmark in establishing brand integrity and developing consumer confidence; such certification is impartial and trustworthy, as opposed to claims made just by the companies themselves.
Persistence and Innovation
It is of no coincidence that Tuntex has gained such an honor. Ever since the plant was constructed, it employs a special sewage treatment system, industry leading for such factories in China. The plant uses solution dyed yarns, in order to achieve zero sewage discharge. Operational efficiencies like this, as well as sustainable product attributes like Recycled Content within our products, truly reflect Tuntex's dedication and respect towards environmental protection.
For years, Tuntex has been working on reclaiming and recycling carpets. After the products are recycled, backing material will be renewed as materials to produce new carpet, which effectively reduces waste disposal. Yarns are recycled to become material used for daily supplies, and so extends the life cycle of the materials. Environmental protection has no boundaries; Tuntex not only applies recycling technology to its own carpets, but also shares the same technology with other environmentally committed carpet enterprises to recycle their production waste and used carpet, working together to protect the environment.

As a company, we firmly believe that such effort is not only to benefit our surrounding communities, but also for the improvement of the global environment, striving towards a better future.
GreenCircle Recycled Content certification is one of the ongoing milestones in Tuntex's years of achievements in environment protection. We will never stop pursuing higher goals, and will work even harder for the journey ahead.