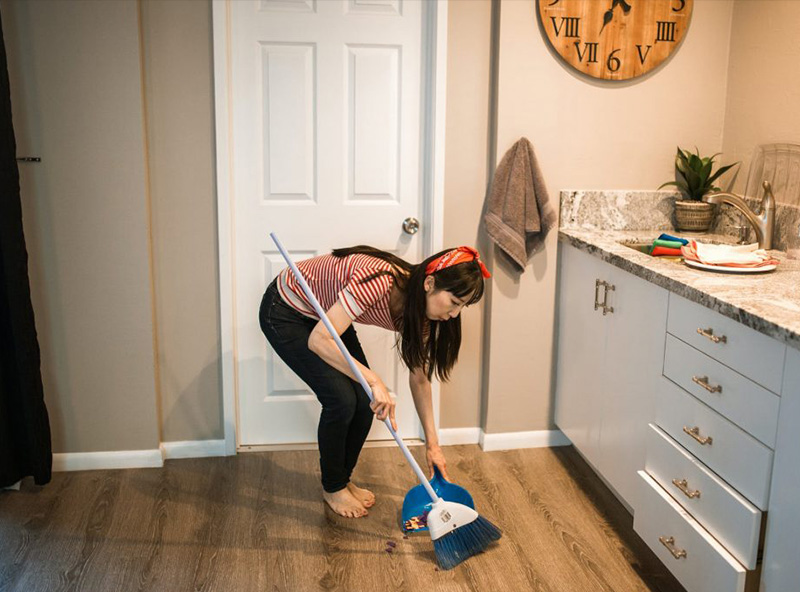 29 Jul

How to Clean & Take Care of Luxury Vinyl Plank Flooring

The best way to clean vinyl floors is to start by picking up loose dirt. While it may not seem like dirt can cause issues on your vinyl, small rocks or pieces of dirt that are stuck in your shoes can be sharp. Over time, they can scratch the surface, which is why picking up dirt is an excellent place to start.

To remove dirt, you can sweep or vacuum. Be sure to turn your beater bar off on your vacuum to prevent damages. We recommend that you do this at least once a week. If you have a dirt driveway, pets, or kids, you may need to sweep or vacuum more often.
Don't leave spills on the floors to air dry. Always wipe up spills as soon as they occur to prevent any damage.

Don't use a vacuum with the beater bar turned on. Always turn the beater bar off.

Don't scrub vinyl floors with steel wool to remove stains.

Don't pull heavy furniture across your floors when moving. Use furniture pads to prevent scratches and dents, and always lift furniture rather than sliding, which can cause scuff marks or dents.

Don't use an excessive amount of water to clean vinyl floors. Don't use soaps or detergents as these will leave a dulling film on the surface of your vinyl floor.

Don't use any cleaning methods that are not mentioned within the manufacturer label to maintain your manufacturer warranty.

Don't steam clean your vinyl floors, even if they are waterproof.
 Vinyl Floor Tips for Maintenance & Care
There are a few things that you can do to prevent spills, mud, dirt, and accidents from damaging your vinyl floors. After all, keeping dirt and dust outside means less frequent cleaning inside! One of the easiest additions you can add to your home is an outdoor mat. Placed just outside the front or back door, you and your guests will have a space to wipe your feet before coming inside. The mat will reduce the amount of dirt and debris that is tracked inside. If you want to take it a step farther, you can also invest in an indoor mat for inside and leave shoes by the door.
Investing in area rugs in high traffic areas is another great idea. Hallways and staircases are high traffic areas that see plenty of foot traffic. Use a runner for a hallway, or a custom stair runner on staircases to limit the amount of dirt on vinyl floors.
You should also wipe or pick up spills as soon as they occur to prevent future damages to your floors. Standing liquid of any type can seep into the seams of the floors or planks and cause them to buckle.
Whether you are investing in brand-new luxury vinyl floors or you're moving into a home with vinyl, it's easy to maintain and care for luxury vinyl flooring with our tips and tricks.